Unistrut Channel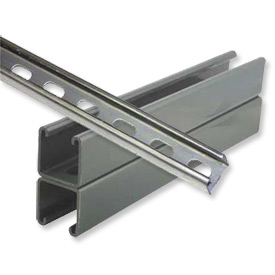 Metar Unistrut Channel/ Metal Framing Systems
The metal framing systems serves as the beam or the support for the layout of the cable channels. The entire layout of the cables can be kept upon these frames that can withstand the load of the cable to make sure that these do not come in way. Lots of cable in the place can cause hindrance to the people walking by and mostly takes up half of the space. With the framing system, all these can be removed from the path of the person at the place, thus ensuring a safe environment for both the person and the cable layout.
Metal framing systems specifications:
Also called as the C channel, UAE or the U channel, UAE, these framing systems are manufactured and produced according to the standard specifications in the industry that confers to BS 6946. These frame systems comes in various specifications and are available in the market. All these are manufactured either in aluminium or in stainless steel.
The Unistrut Channel in UAE is seen in various types based upon the production type and the need that they serve in the places. The various types of these framing systems include,
1-5/8″ Unistrut Metal Framing Channel:
This type of C channel, UAE, comes in holes and slots type of framing channels. Also, these can also be availed welded back to back to each other.
1-1/4″ Unistrut Metal Framing Channel:
This framing type is small when compared to the previous metal framing system and mostly available welded back to back to each other. More than one piece of the framing can be stacked upon each other to create the layout.
13/16″ Unistrut Metal Framing Channel:
These are shorter in length than the previous two types of framing systems. Two or more of the frames are welded back to back or stacked upon each other to support the cable layout.
Unistrut 1-5/8 Metal Framing Strut Fittings:
The fittings for the U channel, UAE and the C channel, UAE are available to hold the framings in place when needed. This way, more than one type of framing can be fixed in the place for the support of the cable layout. Some of common fitting types include, flat fittings, angular fittings, wing fittings, beam clamps and trolleys.
Unistrut Pierced and Slotted Channel:
The holes in the channel help to hold the other frames that need to be fit along with the existing ones with the help of a fitting. These are available in holes and slots combination and can also be purchased by welding them back to back to each other.
1-5/8 " Unistrut Channel Strut Nuts With Springs:
The spring type of the channel nuts ensure that they are easy to be detached from the layout when they have to re-install at a different place.