Wire Mesh Tray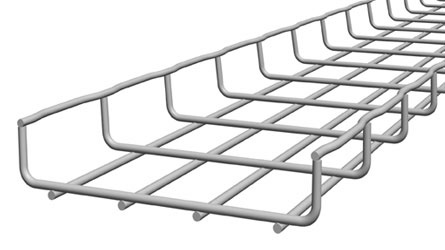 Similar to the cable ladders, the cable trays are designed by the cable management to reduce the damages that are caused to the open wiring system. This is a very common way of managing the cables in the places where the cables are used for carrying several loads of information and thus are large in number. They reduce the time that is spent on pulling out the wire that needs replacement from a tube and this is really simple as all the wires are laid out on the cable tray. The wire mesh tray in UAE was introduced after the need for the performance, safety and the economic needs of the cables increased.
Specification provided by the wire mesh tray manufacturer in UAE:
The wire mesh tray is manufactured keeping in mind the maximum strength that is required for supporting the minimum weight. Only the structure that is complex to this ideology has been used in the design of the wire mesh trays by the cable management. The common specifications that are provided by the wire mesh tray manufacturers in UAE for these products include,
Standardised dimensions for all the products.
Nominalised 10" depth for the tray and can be customised on request.
For smooth and safe handling, the wire mesh tray is provided with smooth edges to avoid cuts during handling.
These are available in hot dip galvanised steel, stainless steel, electro zinc and black painted.
The wire mesh tray in UAE makes sure that the cable routing is done efficiently and the lines are secure after installation. These mesh trays are available for the industrial, commercial and for the household purposes.
Other specifications:
Few other specifications have to be conferred to in order to ensure the safety of the cable and the person handling it. On purchase of the wire mesh trays in UAE, the accompanying other fittings that are required for the installation of the wire trays are also available. Based upon the use of the tray and the place in which these need to be installed in, the dimensions and the specifications can vary.
In order to ensure the safety of the wires in the cable tray, fire proof jackets are fit along with the cable trays. All the wiring and the cable products are being produced based on the fire safety regulations that need to be followed and specified by the cable management. Conforming to these standards ensure the market value and the durability of the product. In order to make sure that no small children get their hand on these, the wire mesh trays are installed at the highest point in the houses. This way, both the children and the cable are safe.